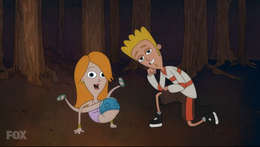 Keith's Sick 17th Birthday Song
is a song sung by
Keith Knudsen Jr.
and
Alexis Beekler
in the episode
Shame on Pee
.
Alexis: Uh-oh!
Keith: Uh-oh!
Alexis: Who could it be?
Keith: It's Keith with an invite to his sick 17.
Alexis: It's gunna be sick!
Kieth: It's gunna be tight!
Both: So won't you please tell us that we'll see you tonight!
Ad blocker interference detected!
Wikia is a free-to-use site that makes money from advertising. We have a modified experience for viewers using ad blockers

Wikia is not accessible if you've made further modifications. Remove the custom ad blocker rule(s) and the page will load as expected.