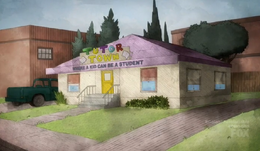 Tutor Town
is a learning facility that appeared in the episode
Dylan Crushes Reading
.
Dylan
was sent there so that she could learn how to read. The facility is run by a depressed teacher who's brother killed himself because he didn't know how to read. When Dylan went there, she met
Swingley
, a weakling who also didn't know how to read. The two of them were paired up as reading partners and Dylan fell in love with him there.
Ad blocker interference detected!
Wikia is a free-to-use site that makes money from advertising. We have a modified experience for viewers using ad blockers

Wikia is not accessible if you've made further modifications. Remove the custom ad blocker rule(s) and the page will load as expected.